10 Simple Self-Care Rituals You Can Do When You're Feeling Overwhelmed
DISCLAIMER
This blog has not been approved by your local health department and is not intended to provide diagnosis, treatment, or medical advice. Read More

This blog has not been approved by your local health department and is not intended to provide diagnosis, treatment, or medical advice. The content provided on this blog is for informational purposes only. Please consult with a physician or other healthcare professional regarding any medical or health-related diagnosis or treatment options. Information on this blog should not be considered as a substitute for advice from a healthcare professional. The claims made about specific products throughout this blog are not approved to diagnose, treat, cure, or prevent disease.
In this article: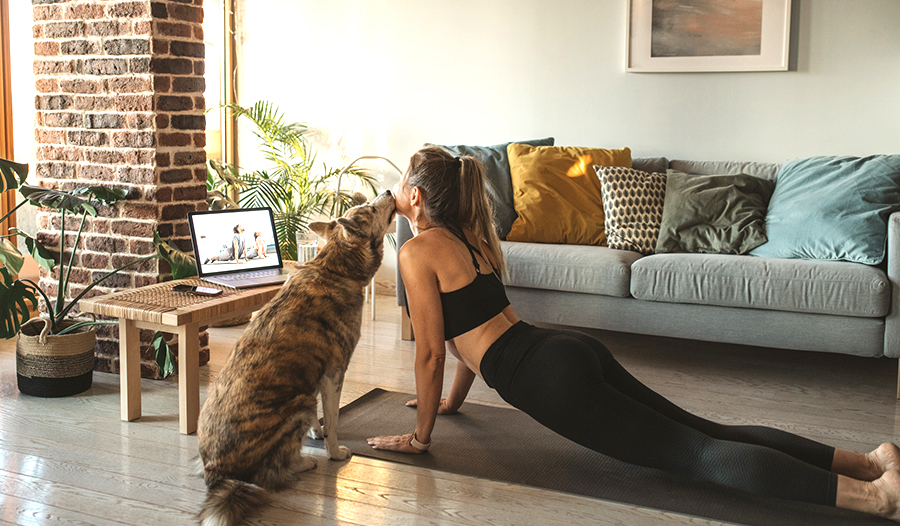 With a pandemic sweeping the globe, it's no wonder that so many are turning to self-care rituals to help maintain balance and sanity. By practicing self-care rituals, it's possible to navigate your way through stressful moments with a calm mindset.
We've talked about self-care rituals on the iHerb Beauty blog before, but if you need a refresher: Self-care rituals are small actions or behaviors that you can do over and over again, that help you be well physically, mentally and emotionally. They are personal to you and can be anything that makes you feel better or create a sense of calm when things feel out of control.
If you don't have a lot of time, and can only take one thing away from this article, it's this:
‌‌‌‌Take A Break When You're Overwhelmed
Sometimes the simplest answer is what you need most. When we are overwhelmed, it can feel like we are drowning in a mountain of work, tasks, chores, emotions, caring for others, and more. To practice self-care, learn how to take a quick break, whether it's only for a few minutes, or even half an hour, if you can manage it.
During your break, try one of these 10 simple self-care rituals to help you reset and recharge your batteries.
‌‌‌‌1. Make A Cup Of Tea and Drink It Slowly
Whatever your beverage of choice is, whether it's tea, coffee, kombucha or a smoothie, take the time to prepare it, and then drink it slowly, preferably by a window where you can look outside and observe your surroundings, or in a quiet corner where you aren't bothered. Hot beverages lend themselves well to this ritual, since you have to sip your drink slowly and not burn your mouth.
While you're at it, take a few deep breaths by filling up your lungs and exhaling slowly. Never underestimate the power of deep breathing for calmness. If you were working on something previously, sometimes a few minutes away can help you clear your mind, organize your thoughts, and jump right back into it when you're ready.
‌‌‌‌2.
Do A Digital Detox
We're all guilty of endless scrolling on our devices to consume content on social media and other apps. This is true especially now, as most of us shelter in place at home during quarantine, and we have nowhere else to turn for entertainment and to pass the time. After all, you're probably reading this article on your phone right now. However, news fatigue is real, and can take a toll on our mental health.
If you find yourself constantly bombarded with negative news and are suffering for it, our primary recommendation would be to seek some help. See if your health insurance offers counseling during the pandemic and take advantage of it. Our other recommendation, if this is not available to you, is to take a digital detox. Turn off your devices and break the negative news cycle for a short while. Maybe it's one hour, or even a full day, if you can manage it. Turning off the news doesn't mean that you don't care about what's happening, it just means that you're taking care of yourself first.
‌‌‌‌3.
Go Outside For A Walk
Being stuck inside all day is not good for anyone, whether we are in a pandemic or not. So take some time to go outside for a walk, get out into nature, absorb some sunshine (don't forget to wear sunscreen!), get some fresh air and look at the sky. We recommend resisting the urge to look at your phone, and just enjoy the world outside in all its glory. Observe the sounds, smells and sights around you and notice how your mood lifts naturally just by being outside.
Remember to wear a face mask or covering and practice social distancing per the CDC's guidelines. Most importantly, wash your hands when you get home.
‌‌‌‌4.
Move Your Body
A proven way to get endorphins flowing is to move your body. Whether you are tuning in for a workout or yoga class on Zoom, riding a bike outside, or just turning on some music and dancing around, getting your heart rate up and blood pumping is a good way to start feeling better immediately.
Better yet, create a "Move Your Body" playlist with your favorite songs and play it whenever you need a boost.
‌‌‌‌5.
Meditate
Meditation is often recommended for stress-reduction and self-care, but it can be intimidating if you've never done it before. Meditation is actually quite simple and does not require any special equipment, and there's many different types so you can try them out to see what works best for yourself.
You can listen to a guided meditation or use a meditation app if you've never done it before, as those are very beginner friendly. They will often tell you to focus on your breathing, do a body scan by noticing tension in certain parts of your body and use your senses to notice things around you, like sounds, smells and sights. Mantra meditation means repeating a word or a phrase over and over in your mind to focus your thoughts and not let them wander. Transcendental Meditation is similar in that you repeat a mantra to yourself but can let your thoughts pass you by. Some people regard yoga as a moving meditation, as you use your breath to focus on balancing your body in specific postures.
Whichever method you pick, meditation is extremely beneficial for restoring some calm and peace in your mind.
‌‌‌‌6.
Do Your Skincare Routine
It's easy to neglect your skincare routine when you're feeling stressed or overwhelmed, as it's usually the last thing on your mind. But, since skincare has a cumulative effect, it's important to keep doing your routine so that your skin doesn't become congested, dull, dry, or out of balance, which will then need more effort to correct or rebalance later on.
If you typically have a multi-step routine and keeping up with that seems too overwhelming, simplify your routine by using products that can multi-task or take it down to the basics. At the very least, you should be washing and moisturizing your face, and wearing an SPF if you are going outdoors. Extras such as toners, masks, exfoliators and serums or overnight treatments are fantastic for maintaining your glow, and can be a great way to re-center and focus on yourself every morning and evening if you do your full routine.
Since you've also been washing your hands a lot more to reduce virus transmission, don't forget to take care of your hands by moisturizing them or using a hand mask.
‌‌‌‌7.
Write Everything Down
Journaling is a great self-care ritual to get your thoughts out of your head and clear up some headspace. Journaling can be approached in several ways, but the two main methods are: emotional and functional.
Emotional journaling can be used self-reflection. It can be a place where you can explore your thoughts, feelings, things you are grateful for, record and analyze your dreams, and it can be a place to vent about things you feel heated up about. It can provide a sense of relief once you have written out what you're thinking and feeling, especially if you're feeling overwhelmed. You can use your journal as a place to unload your emotions onto, so you don't have to carry the burden on yourself 24/7.
Functional journaling, on the other hand, can be used for recording things you need to do, errands you need to run, meetings you need to attend and your general to do list. Some people find the bullet journal method useful, while others simply call this their "planner". If you feel extremely overwhelmed with all the tasks at hand, it may be useful for you to write everything you need to do down, so that you can visualize them as a group, and hopefully realize that the list seems doable (instead of impossible) when you start to chip away at them one-by-one.
‌‌‌‌8. Make Something
Sometimes the best way to feel less overwhelmed or stressed is to use your hands to make something. It can be anything from cooking a meal, creating some art either digitally or by hand, playing an instrument, crafting something tangible, writing the novel you always wanted to write, woodworking or gardening. This can be something you already are good at doing, or perhaps it is a new skill you want to hone.
There are lots of free online resources, classes, videos, podcasts and blogs that you can read/watch to either work on or learn a new skill or hobby. If you become proficient with your new skills, you can even turn it into a side business and start earning a profit for your hard work.
‌‌‌‌9.
Maintain A Consistent Sleep Schedule
Maintaining a consistent sleep schedule is a very easy self-care ritual that you can start today. Many of our regular routines have been disrupted by the pandemic, whether you are working from home, or if you're currently unemployed, unable to go to school or do your usual activities.
Days, weeks and months have started to blend together, but it's really important to try to get enough sleep each night by going to bed and waking up at the same time every day. The last thing you want to do is put your immune system at risk by not resting your body adequately every night.
‌‌‌‌10. Connect With A Loved One
If you live by yourself, and being in quarantine has you feeling isolated and lonely, it's really essential to connect with a loved one, either through phone calls, video chat, or even a socially distanced (6 ft. apart) visit.
Even if you are an introvert and prefer to avoid crowds, being in complete isolation can still lead to feelings of disconnection, confusion and depression. Human connection is more important than ever, so speak with friends and/or family as often as you need to. Chances are, they're feeling similar to you, and talking about it together can be beneficial.
‌‌‌‌There's Nothing Wrong With Feeling Overwhelmed
Feeling overwhelmed from time to time is completely normal. And when you add a global pandemic into the mix, it's completely OK to feel like you're not in control and be stressed or anxious about it. So that's why self-care is essential, especially now more than ever. If you can, try to acknowledge and accept how you feel at the moment, and then practice some of the self-care rituals we outlined above.
We're here for you if you need anything. We're all in this together.
With love,
iHerb Beauty