3 Chic and Easy Hair Looks To Try
DISCLAIMER
This blog has not been approved by your local health department and is not intended to provide diagnosis, treatment, or medical advice. Read More

This blog has not been approved by your local health department and is not intended to provide diagnosis, treatment, or medical advice. The content provided on this blog is for informational purposes only. Please consult with a physician or other healthcare professional regarding any medical or health-related diagnosis or treatment options. Information on this blog should not be considered as a substitute for advice from a healthcare professional. The claims made about specific products throughout this blog are not approved to diagnose, treat, cure, or prevent disease.
In this article: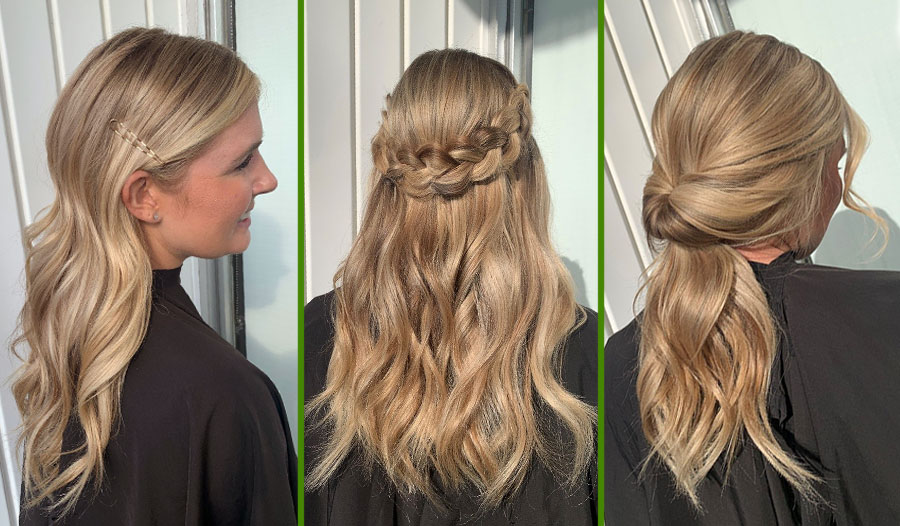 We all love to try different hairstyles. Sometimes having a new style will not only bring us a fresh perspective but can also change our mood. So, whether you are looking for a new style for a night out, a day back in the office, or an upcoming holiday event, why not try one of these looks?
Before You Style: Prep Your Hair
Let's get started. No matter which style you choose, the best way to start is with a fresh palette which means prepping your hair properly.
Step 1: Detox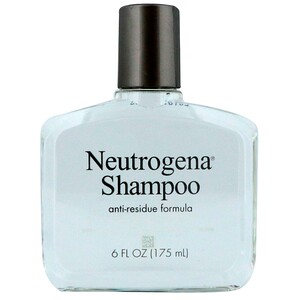 The first step I recommend is a detox shampoo that is safe for colored hair. I personally like Neutrogena Anti-Residue Shampoo for All Hair Types. This shampoo will remove 90% of all dulling residue from your hair and will cleanse your hair thoroughly. Plus, it's mild enough that it won't cause irritation.
Step 2: Shampoo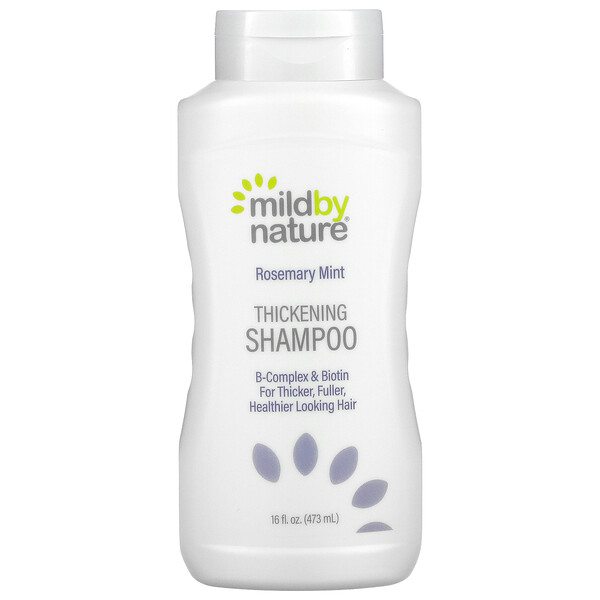 The second step is to use a thickening shampoo, for this I recommend Mild by Nature Thickening Shampoo which will provide you with a thicker and fuller head of hair. I love the rosemary and mint-scented one, which uses biotin and B-complex to achieve a thicker, fuller, healthier hair look. This shampoo is formulated without sulfates and parabens and is perfectly pH-balanced. With this product, you would simply shampoo like normal and then rinse.
Step 3: Condition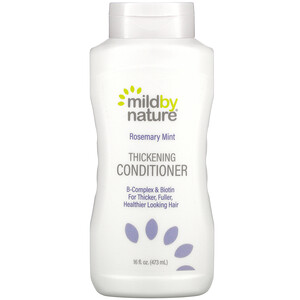 Third, you will want to use a great conditioner. I love Mild by Nature Thickening Conditioner and would stick with the rosemary and mint scent personally, although other great scents are available. This conditioner works well with the shampoo to get the ultimate result. An important note here is that this conditioner should not be applied to the roots, it should only be applied from your mid-shaft through the ends so it does not weigh down your hair when it's time to style.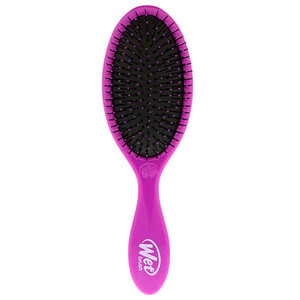 I also recommend that you purchase a Wet Brush Detangler Brush (my favorite is the purple) for the conditioner step. This works wonders on all hair types. It has a 20% larger surface area so that it spreads conditioner more easily throughout your hair, with fewer tangles and breakage.
Step 4: Heat Protection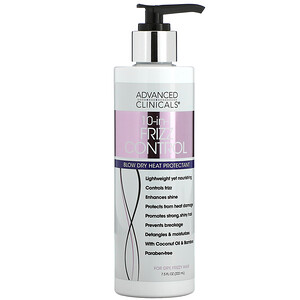 The next step is to add a blow-dry heat protectant. I like the Advanced Clinical 10-in-1 Frizz Control, which is lightweight and helps to control your frizz, leaving your hair with a perfect shine. It protects from heat damage and leaves your hair strong. It helps to detangle and moisturize and uses coconut oil and bamboo to boost shine and prevent breakage. You should apply two quarter-sized dollops to your freshly washed hair from the roots to the ends.
Step 5: Blow Dry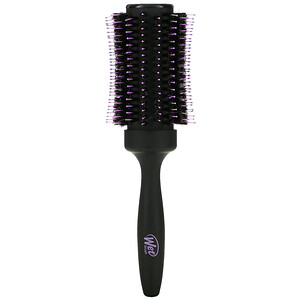 It's important to choose the right tool to blow dry your hair. I love using the Wet Brush Break Free Volumizing Round Brush which can be used for all hair types. This helps give you perfect volume and body and creates the perfect blow-out with less pain, breakage, and effort compared to other products. It has an exclusive HeatFlex bristle technology that bends and flexes to effortlessly detangle and remove knots, which has made this my go-to brush for a blow-out. The unique concave bristle design helps you get closer to the root to maximize control for more body and volume.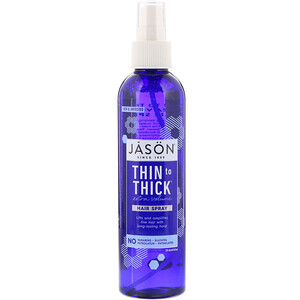 Once your hair is dry you can spritz it with Jason Natural Thin to Thick Extra Volume Hair Spray to lock in your waves, which helps to give your hair long-lasting oomph using a weightless formula. It uses the strengthening power of biotin, panthenol, and green tea to support healthy hair growth and restore full-body thickness. It has lots of nourishing vitamins that give your hair a soft, long-lasting hold.
A Variety Of Hair Styles For Any Occasion
Now that you have shampooed, conditioned, and blow-dried your hair, here are three easy looks for you to try at home: one is hair down, one is half up/half down, and the last is up. Follow the steps below to create these looks.
Look 1: Elegant Beachy Waves With a Cute Accessory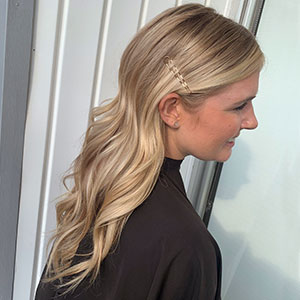 The first style is an elegant twist on the classic beach-waved or curled hair that you may have had during the summer months. First, you will want to style your curls to your own preferences and use a natural bristle comb or brush to smooth down the front sections toward the back behind the ears. A quick tip for stubborn hair is to use a small hair tie to secure those sections at the back of the nape. You may want to tease the hair slightly at the crown for some extra body/volume. To finish this look, you can add a cute accessory pin for some added flair.
Look 2: Half Up/Half Down With A Fun Braid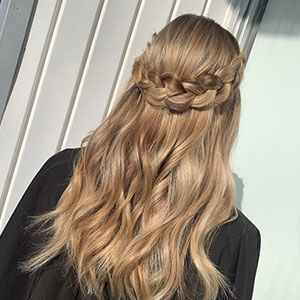 The second style is a perfect way to jazz up a half up/half down hairstyle as shown. Begin by parting your hair in the middle so that you can have a nice, full, pulled-out braid that will reach around to secure at the back of the head. This means it will work perfectly even on shorter hair! Again, begin by styling your curls to your preferences and section out the front two quadrants. You then want to create a braid in each of the two sections (you can choose either a French braid, off-scalp braid, or another of your choosing). I chose to opt for a standard braid in the style shown. Next, you want to secure the braids about an inch and a half from the end using a hairpin. You will want to leave some room so that you can pull the braid apart or "pancake" the braid for flexible styling needs. You can then tease the crown of the head for some added volume. By teasing you will also create the anchor for pinning down your braids. To finish the look you can then pin the braids by tucking the ends of one under the other.
Look 3: Upgraded Ponytail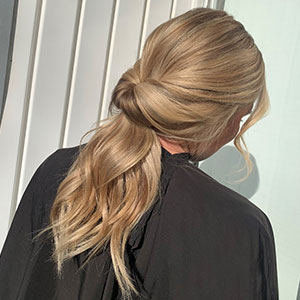 The third style is a basic pony but better! This style works great on straight, curled, or naturally textured hair. Start by parting your hair wherever you are comfortable, leaving bangs or tendrils out around your hairline which will help to frame your beautiful face. Tease your hair at the crown for some volume and gather all of your hair at the nape in a low ponytail. Next, you want to split the ponytail in half above the hair tie and flip the ponytail through the split, or use the Topsytail tool as a shortcut. To finish this look you then want to tighten the ponytail and secure it with some hairspray. This style is perfect for those who want to dance the night away.
Give These Easy and Chic Hairstyles A Try
Hopefully, one or more of these three easy styles can be used to create a new fun look for you for that holiday party, family event, or a special night out with that significant other so that you feel beautiful and elegant without the need to head to the salon first.