Why Marine Collagen May Be A Better Option For You
DISCLAIMER
This blog does not intend to provide diagnosis... Read More

This blog does not intend to provide diagnosis, treatment, or medical advice. Read more. The content provided on this blog is for informational purposes only. Please consult with a physician or other healthcare professional regarding any medical or health-related diagnosis or treatment options. Information on this blog should not be considered as a substitute for advice from a healthcare professional. The claims made about specific products throughout this blog are not approved to diagnose, treat, cure, or prevent disease.
In this article: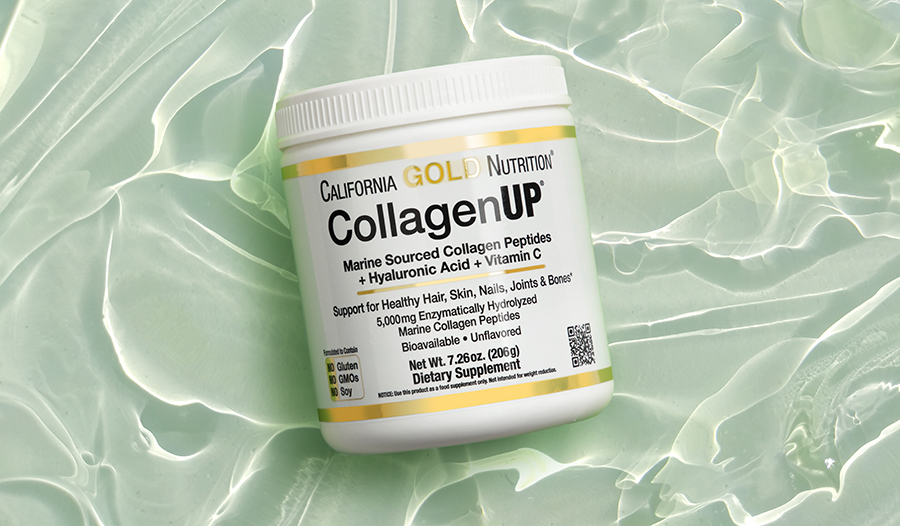 ‌‌‌‌Why Collagen?
Collagen supplements help support various body systems, structures, and functions. From heart health to bone health, marine collagen promotes healthy muscles, strong tendons, youthful skin, healthy gut lining, and improved joint pain.
Collagen's many health benefits are attributed to it being the most abundant protein in the body. Found in tendons, ligaments, bones, organs, blood vessels, muscles, skin, and intestines, collagen plays an all-important role in many aspects of the human body. After water, collagen is the second most abundant substance in the body.
‌‌‌‌What Makes Marine Collagen Different?
It's More Sustainable
Marine collagen is made from the discarded skin and scales of fish, making it a sustainable alternative to many other collagen sources.
It's Pescatarian Friendly
Collagen supplements are typically sourced from cows (bovine), chickens, or pigs (porcine). Since marine collagen is sourced from fish it is an excellent option for those following a pescatarian diet.
It's a Good Source of Protein
Containing 18 different amino acids, marine collagen offers an excellent source of protein. Because it only has eight of the nine essential amino acids, it is not a complete protein source. Missing the essential amino acid tryptophan, marine collagen, although incomplete, is still a viable source for the building blocks of protein and connective tissues in our bodies.
‌‌‌‌How is Marine Collagen Made?
Once collagen gets extracted from fish skin and scales, it gets hydrolyzed to break the collagen proteins into smaller pieces called collagen peptides. The peptides are more easily digested by the body, increasing the health benefits through increased absorption and bioavailability. Hydrolysis also decreases the fishy smell and taste of marine collagen.
The smaller peptides formed have better dissolvability and can easily blend into a smoothie, coffee, juice, or any beverage of choice. The digestive tract further breaks down the collagen peptides into amino acids so that the body can use them in the many collagen-filled locations.
‌‌‌‌8 Health Benefits of Marine Collagen
With collagen providing much of the foundation of human organs and tissues, supplementing marine collagen can provide many health benefits. Considering our bodies begin to produce less collagen starting in our mid-20's, increasing our collagen intake can help alleviate some common health concerns associated with decreased collagen production as we age.
Marine Collagen May Improve Joint Health
As we age and produce less collagen, our cartilage is affected. Collagen is an essential component of cartilage, helping to maintain its structure and integrity. Our risk of developing a joint disease such as osteoarthritis increases as we age, producing less collagen.
Studies show that taking a marine collagen supplement can help reduce joint pain and improve osteoarthritis symptoms. Researchers attribute this to the idea that collagen may stimulate cartilage tissue to make more collagen after accumulating in the tissue as collagen stimulates the body to produce fibroblasts—cells that assist in collagen production.
Marine Collagen is Beneficial to Gut Health
Containing large amounts of proline, glutamine, and glycine—marine collagen benefits the stomach and intestines. These amino acids play a vital role in maintaining a healthy gut lining.
Leaky gut syndrome can occur when there is damage to the intestinal lining. This can allow food particles and waste to leak out of the gut and pass into the bloodstream. Leaky gut symptoms can include gas, bloating, food sensitivities, and may lead to Irritable Bowel Syndrome (IBS).
Taking marine collagen may help repair the gut lining and improve the symptoms associated with leaky gut syndrome and other inflammatory bowel diseases (IBD) such as Crohn's and Celiac disease.
Marine Collagen Helps to Support Aging Skin
Skin hydration, integrity, and elasticity are both affected by healthy collagen levels. The decrease in collagen production as we age leads to fine lines, wrinkles, and dry skin.
Studies show that women taking collagen supplements had increased skin elasticity and decreased skin dryness than those who did not take collagen. Other research found that women who took a collagen supplement saw a significant reduction in wrinkles than those who did not take the collagen.
The skin benefits of collagen are due to its ability to stimulate fibroblast growth, thereby increasing the body's collagen production. Collagen also may stimulate the growth of elastin and fibrillin, other significant proteins present in the skin.
Marine Collagen Can Improve Muscle Mass
Glycine, an amino acid present in marine collagen, can help increase creatine levels, a vital muscle protein. Up to 10% of muscle tissue is collagen, which helps keep muscles strong and functional.
One study showed men who took collagen supplements while following an exercise program gained significantly more strength and muscle mass than those who did not take the collagen. Another study showed that those who lost muscle mass due to aging, or sarcopenia, increased muscle mass with collagen supplementation.
Marine collagen also helps keep muscle mass by minimizing muscle breakdown. Added benefits come with the antioxidant properties of proline, an amino acid in collagen, which may help reduce pain and cellular damage caused by working out, improving post-workout recovery.
Marine Collagen May Help Support Tendons and Ligaments
Tendons and ligaments primarily build on collagen fibers. Studies show that taking collagen supplements can help improve tendon injuries. When ligaments or tendons are injured, our body produces more collagen to help restore them.
Taking collagen supplements can help stimulate the body to produce more collagen, thereby helping to improve injury recovery.
Marine Collagen Can Support Healthy Bones
Similar to ligaments and tendons, bones are composed primarily of collagen. Collagen gives bones their structure and is a significant contributor to bone strength and density.
Studies show that taking collagen supplements may help decrease bone loss that can lead to osteoporosis. Further research found that women who took collagen supplements saw an increase in bone mineral density (BMD)—compared to those who did not take the supplement. Low BMD correlates with the onset of osteoporosis.
Marine Collagen Supports Healthy Hair and Nails
A research study shows that oral supplementation with collagen peptides reduces symptoms of brittle nails and improves nail growth.
This study also found that taking collagen may promote longer hair and nail growth.
Marine Collagen Helps Promote Heart Health
Collagen is critical for the integrity and structure of our artery walls. Arteries are blood vessels that carry oxygenated blood away from the heart to deliver oxygen and nutrients to the body tissues.
A decrease in collagen as we age can contribute to weakened arteries, contributing to the formation of atherosclerosis or narrowing of arteries. Risk of heart attack and stroke increases with atherosclerosis.
One study found that those taking collagen daily experienced a significant reduction in artery stiffness than before they started. These study participants also increased their HDL, or good cholesterol levels, which decreases the risk of atherosclerosis.
‌‌‌‌The Bottom Line
Full of amino acids, the building blocks of protein, marine collagen is an optimal supplement that can benefit many different body structures and systems.
With the ability to strengthen gut lining, hair, and nails while also helping maintain bone and muscle mass, marine collagen has wide-spanning health benefits. It can help arteries maintain their structure and skin to keep its youthful appearance.
Ligaments and tendons benefit from collagen—especially when injured. As the risk for osteoarthritis increases with age, collagen production decreases, making marine collagen supplementation ideal for those suffering from this painful condition.
Marine collagen offers a safe supplement for most people with few side effects. Some have reported mild side effects, including feeling full, heartburn, and a lingering bad taste. Those with a food allergy to fish or eggs should avoid collagen supplements made from these ingredients.
References:
Bello AE, Oesser S. Collagen hydrolysate for the treatment of osteoarthritis and other joint disorders: a review of the literature. Curr Med Res Opin. 2006;22(11):2221-2232. doi:10.1185/030079906X148373

Clark KL, Sebastianelli W, Flechsenhar KR, et al. 24-Week study on the use of collagen hydrolysate as a dietary supplement in athletes with activity-related joint pain. Curr Med Res Opin. 2008;24(5):1485-1496. doi:10.1185/030079908x291967

Moskowitz RW. Role of collagen hydrolysate in bone and joint disease. Semin Arthritis Rheum. 2000;30(2):87-99. doi:10.1053/sarh.2000.9622

Proksch E, Segger D, Degwert J, Schunck M, Zague V, Oesser S. Oral supplementation of specific collagen peptides has beneficial effects on human skin physiology: a double-blind, placebo-controlled study. Skin Pharmacol Physiol. 2014;27(1):47-55. doi:10.1159/000351376

Ganceviciene R, Liakou AI, Theodoridis A, Makrantonaki E, Zouboulis CC. Skin anti-aging strategies. Dermatoendocrinol. 2012;4(3):308-319. doi:10.4161/derm.22804

Gillies AR, Lieber RL. Structure and function of the skeletal muscle extracellular matrix. Muscle Nerve. 2011;44(3):318-331. doi:10.1002/mus.22094

Zdzieblik D, Oesser S, Baumstark MW, Gollhofer A, König D. Collagen peptide supplementation in combination with resistance training improves body composition and increases muscle strength in elderly sarcopenic men: a randomised controlled trial. Br J Nutr. 2015;114(8):1237-1245. doi:10.1017/S0007114515002810

Hexsel D, Zague V, Schunck M, Siega C, Camozzato FO, Oesser S. Oral supplementation with specific bioactive collagen peptides improves nail growth and reduces symptoms of brittle nails. J Cosmet Dermatol. 2017;16(4):520-526. doi:10.1111/jocd.12393

König D, Oesser S, Scharla S, Zdzieblik D, Gollhofer A. Specific Collagen Peptides Improve Bone Mineral Density and Bone Markers in Postmenopausal Women-A Randomized Controlled Study. Nutrients. 2018;10(1):97. Published 2018 Jan 16. doi:10.3390/nu10010097

Elam ML, Johnson SA, Hooshmand S, et al. A calcium-collagen chelate dietary supplement attenuates bone loss in postmenopausal women with osteopenia: a randomized controlled trial. J Med Food. 2015;18(3):324-331. doi:10.1089/jmf.2014.0100