How To Embrace Minimalism In Your Skincare Routine
DISCLAIMER
This blog does not intend to provide diagnosis... Read More

This blog does not intend to provide diagnosis, treatment, or medical advice. Read more. The content provided on this blog is for informational purposes only. Please consult with a physician or other healthcare professional regarding any medical or health-related diagnosis or treatment options. Information on this blog should not be considered as a substitute for advice from a healthcare professional. The claims made about specific products throughout this blog are not approved to diagnose, treat, cure, or prevent disease.
In this article: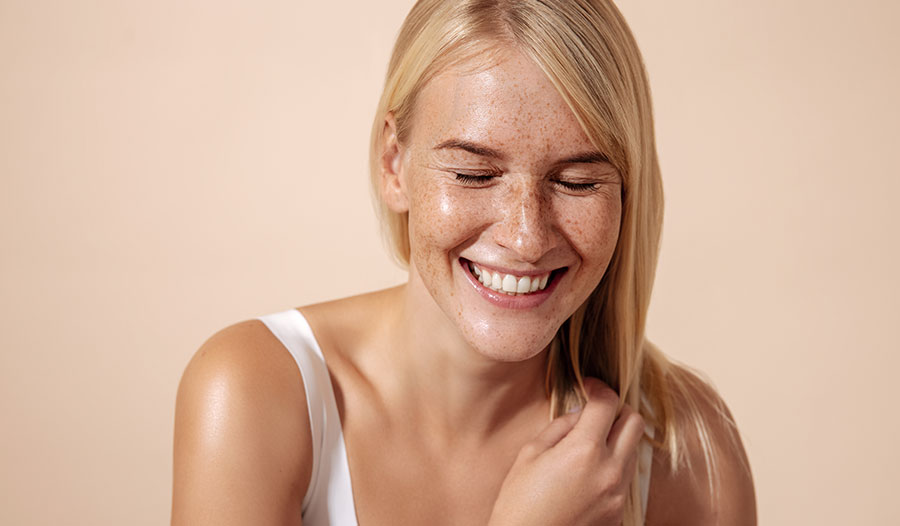 The beauty community has shifted and changed direction over the years. Unless you have been sleeping for the last 24 months—which, fair enough if you have, things have been rough!—you will have noticed the dramatic rise of skincare domination within the cosmetics world. The rise of skincare has also given way to numerous popular and evolving skincare trends, which brings us to today's topic: skincare minimalism. In this post, we'll be discussing the origins of the minimalistic skincare trend, and how to jump on board. Let's get into it.
What Is Skincare Minimalism?
Skincare minimalism is exactly as it sounds—a minimal, low maintenance, skincare routine that still addresses your skincare concerns and gets results. But where did it emerge from?
Many beauty aficionados can look back and point to 2015 as to when the beauty community in the digital space took off. The expansion of beauty on the internet, and more specifically the YouTube accessibility of tutorials and how-tos, meant consumers were suddenly able to try and experiment a lot more comfortably with beauty products and trends at home. Beauty enthusiasts began widely purchasing products recommended by their favorite online personalities, and an online community, led by influencers, was formed. The heavy focus at this time was on makeup, and lots of it. Beauty YouTubers proudly displayed entire rooms dedicated to enormous makeup collections, and average consumers were purchasing these pieces with enthusiasm.
How Did It Start Trending?
The makeup trend continued for several years, but at the beginning of the pandemic, skincare quite clearly moved to the forefront of the beauty space. Masks and working from home put makeup on the back burner for many people. Taking care of the skin is a self-care ritual you can do in your own space, so it's not surprising that it became more popular at a time when all we had was staying home. But the attitude towards consumerism within beauty has also significantly shifted; there is a lot more awareness around being more environmentally considerate, and the power of mega-influencers flashing their collections and encouraging huge monetary purchases has noticeably ebbed. Consumers, and specifically skincare shoppers, are much savvier and more purposeful with purchasing decisions. Skinfluencers, with backgrounds in cosmetic science, have emerged and are offering education on skincare ingredients and formulations. A culmination of these factors has led to a distinct trend in cutting the BS in skincare marketing, minimalizing skincare routines, and seeking out multi-functional ingredients and products. Skincare minimalism has been firmly established!
How to Cut Down Your Skincare Routine
To make it clear, I am not villainizing long skincare routines. You do you! A multi-step routine works for many people—myself included—and can target a multitude of skin aims while providing a form of relaxation and therapy for skincare enthusiasts. It is fun trying different products and playing with a range of textures and formulas. But the attraction to cutting down your routine can be real, too.
If you have sensitive skin, it can be beneficial to keep your routine more minimal and stick to simple yet effective products you know and trust. Cutting down your routine can save time, is often more environmentally friendly, and importantly, saves money. You can reduce your consumer footprint and stick to a reliable and arguably much more manageable routine.
Cutting down your skincare steps can be a tricky process if you're used to a ten-step routine, so here are the five key areas to include when seeking a more minimal line-up of skincare products.
1. Cleanse: Keeping your skin well cleansed is the foundation of any good skincare routine, and is a step that should not be missed. Ridding your face of dirt, grime, makeup, and sunscreen should be a no-brainer, and having a solid cleanser that you enjoy and that is gentle on the skin is important.
2. Hydrate: Hydration is a step that personally transformed my skin when I began incorporating hydrating toners and serums. I learned about the importance of hydration for all skin types when I moved to South Korea and began following Korean-style skincare routines. To minimize this step, you can often find toner-serums that combine functions for targeting skincare issues and hydration.
3. Moisturize: Moisturizing the skin is necessary for all skin types to maintain your skin's natural barrier, whether it's a light gel moisturizer for your oily skin, or a deeply nourishing oil-based cream for dry skin. Perhaps your serum is moisturizing enough and you don't need this as an additional step. Use what feels right for you, but make sure your skin gets the moisture it needs to stay healthy.
4. Protect: Sunscreen is non-negotiable for all skin types and skin tones throughout the year. Sunscreen not only prevents the signs of premature aging—although that is a great benefit—it drastically reduces health risks from too many dangerous UV rays. While we are minimizing our skincare routine, do not cut this step, and remember, it is best not to use a moisturizer or makeup product with sunscreen. It is unlikely there is enough SPF within those products to adequately protect your skin. Stick to a separate sun protection product!
5. Treat: If you are seeking to address a specific issue—whether that's large pores, discoloration, or fine lines—you will likely need to maintain a treatment step or ingredient in your routine to actively address this. You may be able to find a serum that helps, which you can also use as a hydrating or moisturizing step, or you may want to stick with a separate product such as an exfoliant.
Skincare Ingredients That Do It All
Of course, skincare is a top component when it comes to aging in style. As we get older, skin goes through various changes including developing fine lines and wrinkles or sunspots, and losing radiance. Fortunately, we have the tips, tricks, and products to help upgrade our routines and continue to love the skin you're in. Using the right products for your skin type and help maintain a healthy and glowing complexion.
If you decide to pare down your routine, there are ingredients to look out for that can serve to treat numerous different skin issues in one swoop. These are my personal favorite star ingredients that do it all!
Snail Mucin
An oldie but a goodie, particularly within Korean skincare, snail mucin has many benefits. Two of the most beneficial in my extensive experience of snail mucin products has been the function of repairing the skin while soothing sensitivity and moisturizing. Snail mucin helps soothe while encouraging new cell growth to repair. Because of this, I find snail mucin a reliable ingredient when my skin is sensitive, irritated, or breaking out. By encouraging new cell growth, snail mucin can also potentially target fine lines. Snail mucin is moisturizing too, so you can see it really is an all-around option for maintaining healthy, balanced skin.
Niacinamide
Niacinamide is extremely common in Korean skincare and that's how I grew so familiar with it. I initially turned to niacinamide-packed products predominantly just for brightening my skin, as it works well for addressing pigmentation and evening skin tone. But I quickly learned it is an extremely versatile ingredient and has also been shown to boost hydration while improving the performance of moisturizing products, reduce the appearance of pores, calm redness, and overall help address the effects of premature aging of the skin.
Propolis
Propolis is an excellent choice for a multi-purpose skincare ingredient and is available in many different product types. The most famous historical use of propolis is for wound healing because of its antibacterial and anti-inflammatory properties. Those with acne and other skin irritations or conditions may highly benefit from propolis in healing and repairing the skin, as well as soothing and decreasing inflammation. Many propolis products are also moisturizing which helps tackle several key skincare areas in one!
Retinol
Retinol is a type of retinoid, a group of Vitamin A derivatives, and has been widely hailed as a game-changer within a skincare routine. Retinols, available both in prescription-strength or more gentle OTC products, are commonly used to reduce fine lines or to treat acne, as the ingredient speeds up cell turnover and increases collagen. This also brightens, smooths texture, evens skin tone, and controls pores. Retinol is known to produce results but should always be started slowly to figure out your skin's tolerance.
From Multi-Step to Multi-Functional
The takeaway: Minimizing your skincare routine can mean that you still gain all the benefits of your routine while saving time, money, and space in your bathroom! Products can be utilized for multiple needs, and we've talked through a variety of ingredients that can address numerous issues at once. Longer routines are enjoyable, but do you know which are working for you, and are you consistent with your routine? If not, cutting down your skincare routine can ensure you are selecting products you know are beneficial for your skin needs, and you can curate a routine that is both effective and easy to maintain. Win, win!
DISCLAIMER: This blog is not intended to provide diagnosis, treatment, or medical advice. Content provided on this blog is for informational purposes only. Please consult with a physician or other healthcare professional regarding any medical or health-related diagnosis or treatment options. Information on this blog should not be considered as a substitute for advice from a healthcare professional. The claims made about specific products throughout this blog are not approved to diagnose, treat, cure, or prevent disease.